Time and again, different people from the remotest part of the country have inspired us by their talent and their dedication towards it. Similarly, we have the story of Ajay Thakur, the Indian Kabaddi Player.
Overview
Ajay Thakur is an Indian Kabaddi player and the former captain of the world cup winning Indian Kabaddi team in 2016 and Asian Games 2014. He is a member of the Himachal Pradesh Police Service.
Early Life
Ajay Thakur was born on 1st May 1986 in Dabhota Village of Nalagarh Himachal Pradesh to Rajinder Kaur and Chottu Ram. 
He wished to serve in the government sector, but gradually grew interests in Kabaddi watching his father and his elder brother Rakesh, who was already an international player. 
Unfortunately, he had a thyroid problem in his childhood days. In spite of having such problems, he went to play a local kabaddi match without even informing at home at the age of 10. 
He then aimed to build his career in Kabaddi.
Career
Ajay Thakur completed his education from local educational institutions. He then studied hard and joined Air India and served them for years. This was the time when his professional Kabaddi career took shape.
He, initially, struggled to play at the national levels due to lack of platforms.
But time took a turn, and it provided Ajay an opportunity to represent Air India Kabaddi team in Industrial National Championship, a national level tournament. He impressed everyone with his excellent raiding skills.
Next, in Asian Indoor Martial Art Tournament 2013, he went to win the gold medal for Air India.
Ajay Thakur was recognized as a professional Kabaddi player only when the 'Pro Kabaddi League' (PKL) was hosted for the first time in 2014. He represented Bengaluru Bulls in the inaugural season. He made stunning performances and secured 127 points in just 15 matches.
His phenomenal performances in PKL 01 made his selection in the Indian Kabaddi team for Asian Games 2014. The same team went to win the Kabaddi Gold Medal.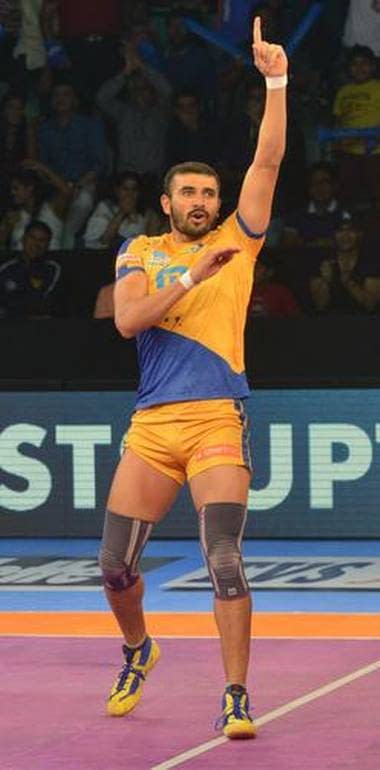 He continued playing in the Pro Kabaddi League since its inception. He has been a part of the Bengaluru Bulls, Puneri Paltan, and Tamil Thalaivas as of now. Currently, he is now the captain of the Tamil Thalaivas.
He was fortunate enough to lead the Indian Kabaddi Team in Kabaddi World Cup 2016, which won the World Cup by the virtue of his heroics in the finals against Iran. He was the number 1 raider of the tournament with 68 points.
Kabaddi Stats
Ajay Thakur is a true warrior who believes in fighting for victory until the end. It is his attitude that made him such a great Kabaddi player. He is better known for his special frog jump signature move.
He is one of the leading players in the PKL since its inception. His stats speak about his excellence in the sport. He has also been a part of some last moment victories including the 2016 Kabaddi World Cup final against Iran.
The Frog Jump
One of the most visually spectacular feats in kabaddi where the raider launches himself off the ground, touches one of more defenders whilst air-borne and lands beyond their reach, before escaping to safety.
Achievements
Ajay Thakur, being an excellent Kabaddi player, is decorated with many awards. He has been awarded by different organizations and even by our Honourable President.
His achievements include:
Asian Indoor and Martial Arts Games Kabaddi – Gold Medal (2013).
Gold Medal at Kabaddi at the 2007 Asian Indoor Games
2014 Asian Games – Gold Medal.
Asian Kabaddi Championship 2017(Gorgan, Iran) – Gold Medal.
World Cup 2016 (Ahmedabad, India) – Gold medal
Asian Games 2018 (Jakarta, Indonesia)- Bronze Medal
Padma Shri Award (2019)
Arjuna Award (2019)
Conclusion
Throughout the journey of Ajay Thakur, we find a lot of struggle faced by him and finally reaching success. We get to learn a lot of qualities from him such as dedication, determination, excellence, fearlessness, and exceptional leadership skills. 
I hope everyone who reads the article inspires them and get them motivated enough to work towards respective goals. 
Please let me know your reviews in the comments below.